Ben je geïnteresseerd in de Nederlandse cultuur en taal? Stichting TaalCultuur helpt je graag hiermee! Wij hebben ervaren taalcoaches die je helpen als je bewoner bent van het AZC Hardenberg of in de gemeente Hardenberg woont. De lessen worden door de vrijwilligers gegeven in de Educatieruimte van de Bibliotheek Hardenberg.
In niveau groepen helpen de coaches je om kennis te verkrijgen over de taal en cultuur. We hebben verhalen met de moeilijke woorden vertaald in het Engels, Arabisch, Farsi en Turks. Hoewel ook een aantal verhalen ter ondersteuning op deze site staan, is dit niet genoeg. Persoonlijke begeleiding helpt je!
De lestijden zijn op maandag en vrijdag. Daarnaast organiseren wij regelmatig cultuur activiteiten. Waar mogelijk ondersteunen wij cursisten op diverse gebieden.
Ben je geïnteresseerd? Stuur ons dan een email of WhatsAppje.
English
Are you interested in Dutch culture and language? The TaalCulture Foundation is happy to help you with this! We have experienced language coaches who can help you if you are a resident of the AZC Hardenberg or live in the municipality of Hardenberg. The lessons are given by the volunteers in the Education room of the Hardenberg Library.
In level groups, the coaches help you to gain knowledge about the language and culture. We have translated stories with the difficult words into English, Arabic, Farsi and Turkish. Although there are also a number of supporting stories on this site, this is not enough. Personal guidance helps you!
Class times are on Mondays and Fridays. We also regularly organize cultural activities. Where possible, we support students in various areas.
Are you interested? Send us an email or WhatsApp.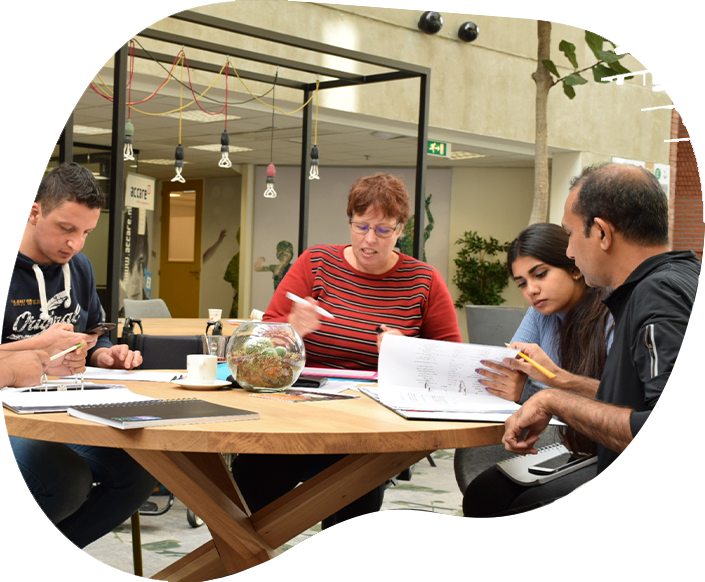 Margret wil haar verhalen uiteindelijk bundelen in een boek. Haar doel is om die beschikbaar te stellen aan asielzoekers en statushouders. Om de verhalen te kunnen begrijpen, is enige basiskennis van de Nederlandse taal wel aanbevolen, ook al worden de moeilijke woorden in diverse talen vertaald en zijn er niveau gradaties.
Je kunt ook samen met een taalcoach aan je taal werken. Op een leuke onconventionele manier leer je dan over de Nederlandse cultuur en de Nederlandse taal.
The Stories
Ultimately, Margret would like to publish a storybook and to offer that to asylum seekers and status holders. Although the words in the course are translated into several languages and there are different levels, some knowledge of the Dutch language is recommended.
You can also work together with a language coach to learn about Dutch culture and the Dutch language with this course.