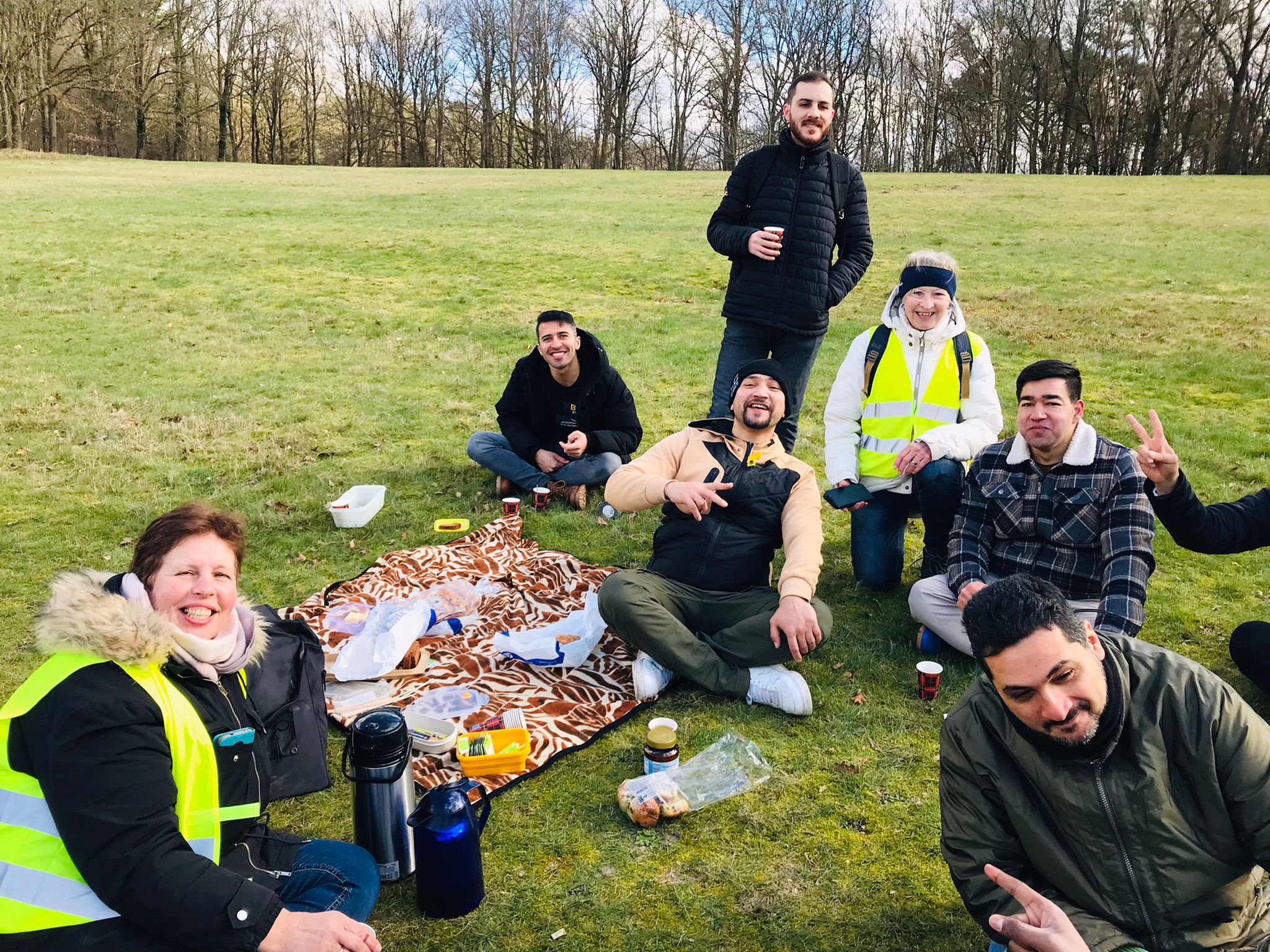 Aftrap fietsseizoen 2023
Al vroeg in de ochtend werden de voorbereidingen getroffen om de eerste fietstocht van het seizoen met bewoners van het AZC Hardenberg een goede start te geven. Koffie, thee en bijbehorende dingen mee. Marianne nam diverse soorten broodjes mee. Margret en Marianne waren er klaar voor, en zo bleek, de cursisten van Nederlandse Cultuurverhalen ook.
Marianne had een leuke, afwisselende fietstocht uitgezet. Langs de Vecht, uiterwaarden, het bos door en op naar het meer De Oldemeijer. Onderweg kletsten we gezellig. Regelmatig werd van fietspartner gewisseld, zodat het een leuke en interessante tocht werd. Tussentijds werd regelmatig gestopt om te vertellen over culturele dingen die we tegen kwamen. De huizen, tuinen en borden 'knooppuntroute'. Maar ook waarom het weiland vol met water stond, de uiterwaarden. Het belang van watermanagement.
Bij De Oldemeijer werd relaxed; koffie/thee gedronken, wat gegeten en gezellig gepraat, maar ook een serieus gesprek af en toe gevoerd. De afgelopen tijd was niet makkelijk voor de meeste mensen geweest. Goed om even te kunnen ontspannen, maar ook te kunnen praten over wat je bezig houdt.
Inmiddels zat er al 16 kilometer op, tijd om de rest te voltooien. De terugweg was wat korter zodat op het eind er zo'n krappe 25 kilometer op de teller stond. Conclusie van de groep was; dit smaakt naar meer. Meerdere tochten zullen dus ook de komende tijd georganiseerd worden.
Kick-off cycling season 2023
Preparations were made early in the morning to give the first bike ride of the season with residents of the AZC Hardenberg a good start. Coffee, tea and accompanying things. Marianne brought various kinds of bread. Margret and Marianne were ready, and as it turned out, so were the Dutch Culture Stories students.
Marianne had set out a nice, varied bike ride. Along the Vecht, floodplains, through the forest and on to the lake De Oldemeijer. We chatted along the way. Cycling partners were regularly changed, so that it became a fun and interesting trip. In the meantime, we regularly stopped to tell about cultural things we encountered. The houses, gardens and 'knooppunt route' signs. But also why the meadow was full of water, the floodplains. The importance of water management.
At De Oldemeijer it was relaxing; drank coffee / tea, ate something and chatted, but also had a serious conversation now and then. Recent times had not been easy for most people. Good to be able to relax for a while, but also to be able to talk about what is on your mind.
By now there was already 16 kilometers cycled, time to complete the rest. The way back was a bit shorter so that at the end there was about 25 kilometers on the counter. The group's conclusion was; this tastes like more. Several trips will therefore also be organized in the near future.