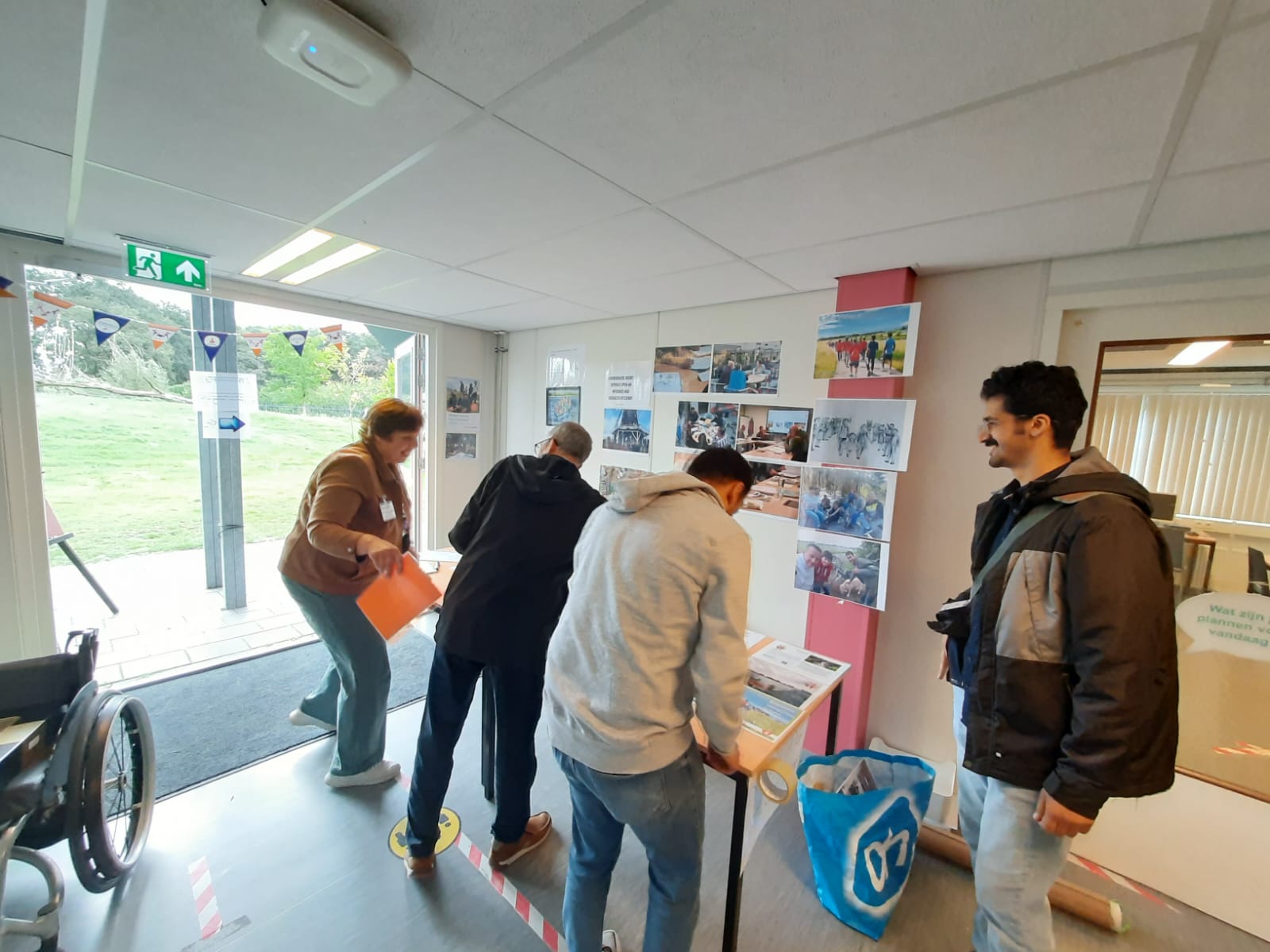 Vluchtelingen en Nederlanders komen samen tijdens Open Dag
Door Mehmet Firat Özgür
Het evenement de Open Dag, gehouden op het Asielzoekerscentrum Hardenberg (AZC) op 23 september 2023, liet verschillende activiteiten en presentaties
zien waar Nederlanders en vluchtelingen samenkomen.
Nederlanders kregen de kans om een diepere blik te werpen op het leven en integratieproces van vluchtelingen, terwijl vluchtelingen kleur toevoegden aan hun leven in het kamp met diverse activiteiten. De Open dag bood verschillende stands, variërend van eten tot juridische informatie en van taalonderwijs tot goochelshows. Stichting TaalCultuur, die verschillende activiteiten en taalonderwijs aanbiedt om aanzienlijk bij te dragen aan het integratieproces van vluchtelingen, trok de aandacht van zowel vluchtelingen als Nederlanders.
De oprichter van de organisatie, Margret Ester, evenals foto's rondom de stand met trainers en studenten, foto's van de activiteiten van de organisatie en posters met citaten over democratie en onderwijs, maakten indruk op de deelnemers. Een van de deelnemers die meer te weten kwam over de activiteiten van Stichting TaalCultuur, drukte hun waardering uit en zei: "Hoe sneller en nauwkeuriger taal en cultuur worden geleerd, hoe sneller en nauwkeuriger de integratie verloopt. Daarom levert Stichting TaalCultuur een waardevolle bijdrage, niet alleen voor vluchtelingen maar ook voor Nederlanders." Veel vluchtelingen schreven zich ook in om deel te nemen aan lessen en activiteiten.
Geïnteresseerd? Neem dan eens een kijkje op de site van Stichting TaalCultuur www.taalcultuur.com. Hier ziet u veel culturele verhalen, informatie en beeldmateriaal.
Refugees and Dutch People Come Together at Open Day
By Mehmet Firat Özgür
The Open Day event held at the Hardenberg Asylum Seekers Center (AZC) at 23 September 2023 witnessed various activities and presentations where Dutch people and refugees came together.
Dutch people had the opportunity to get a closer look at the lives and integration process of refugees, while refugees added color to their camp lives with various activities. The Open Day featured different booths ranging from food to legal information, from language education to magic shows. Stichting TaalCultuur, which offered various activities and language education to contribute significantly to the integration process of refugees, received attention from both refugees and Dutch people.
The founder of the organization, Margret Ester, as well as pictures surrounding the booth with trainers and students, photos of the organization's activities, and posters with quotes about democracy and education, impressed the participants. One of the participants who learned about Stichting TaalCultuur's activities expressed their appreciation, saying, "The faster and more accurately language and culture are learned, the faster and more accurate integration becomes. That's why Stichting TaalCultuur provides a valuable contribution not only for refugees but also for Dutch people." Many refugees also registered to attend classes and activities.
Interested? Take a look at the website of the Language and Culture Foundation, www.taalcultuur.com. Here, you will find many cultural stories, information, and visual material.